Purition
Whole food nutrition in a shake.
Made from natural ingredients, Purition offers a nutritious alternative to gimmicky protein shakes and meal replacements.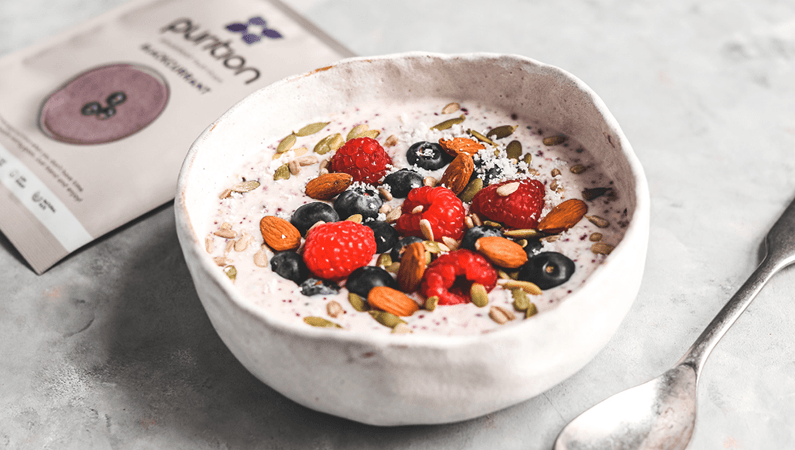 What I most liked about Purition…
Natural taste & subtle flavour
No artificial flavourings 
Smooth consistency when blended
Also nice in porridge! 
Negatives (if any!) about Purition…
You do need a blender. But that was no biggy for me. I love my Nutribullet so I found it easy to mix, blend and enjoy! 
My thoughts on Purition…
Purition offers wholefood goodness. It isn't packed full of additives, artificial sweeteners and other hideous ingredients that many other protein shakes and meal replacements are. Simply blend with your favourite milk for a natural tasting shake (I like Alpro Coconut. Almond, oat and normal skimmed milks are lovely too). 
Purition wont give you that artificial sweetened taste. It is far more subtle and that's why I love it. Purition tastes natural because it is natural. A creamy glass of nutty nourishment! 
Simply said, Purition offers your body SUSTENANCE using whole food ingredients. For example,  sunflower seeds, golden flax seeds, pumpkin seeds, almonds, coconut, sesame and chia are crushed and lightly sweetened using natural flavourings. 
So if you are looking for a natural food supplement that avoids nasty chemicals and ingredients that are sourced ethically, Purition is the food supplement for you. 
Purition is a natural food supplement that can aid:


Mens Health
Womens Health
Weight Loss Programs
Strength Training
Protein Intake
Nutrition Goals
General Fitness
Work With Me…
I'm always looking for new products to try and like minded folks to work with. If you have a product or service that you'd like me to review get in touch. Don't forget, I aim to endorse products and services that are:
Fitness related
Ethical
Natural
Evidence based
Eco friendly